Rosie Kettle is a character from Tracy Beaker Returns.
Biography
Backstory
Rosie is the middle daughter of Steve Kettle and his unnamed wife. At an unknown point, her mother died of an unknown illness; in his grief Steve turned to alcoholism and was unable to properly look after his daughters. Lily began taking on a motherly role to Rosie and Poppy in response. The neighbours eventually reported the family to social services and Rosie and her sisters were taken into care.
Tracy Beaker Returns Series 1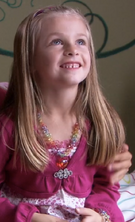 Rosie is first seen watching the television with her sisters and Carmen. She and Poppy are told stories by Lily before they go to bed and according to Gina cannot go to sleep without a story. Rosie and Poppy begin to bond with Carmen which upsets Lily. Carmen makes Rosie cry when she puts sparkles in her hair, despite this Rosie is still wants to remain friends with Carmen.
In Bad Luck Boy and By the Book, Rosie is seen playing with Lily, Carmen and Poppy.
In Family Values, Rosie and her sisters are fostered by Matt and Christie Perry - a couple who were unable to have children. However, Lily was reluctant to allow Matt and Christie to take care of Rosie and Poppy; this caused conflict which upset Rosie and Poppy. As a result, Lily was returned to the DG.
Rosie is last seen in Series 1 having a picnic with Matt, Christie and Poppy when Tracy arrives with Lily. Rosie and Poppy are happy to see Lily but things turn sour when Lily says that Poppy doesn't like tuna. Despite Rosie saying that Poppy likes it, Lily still shouts at Matt and Christie causing the girls to cry and be taken back inside.
Tracy Beaker Returns Series 2
When Lily is staying with the Perrys, Rosie is apparently happy to find out that Lily may be returning to live with them. However, Rosie and Poppy having adjusted to life without Lily as they preferred to have a story from a book read to them rather than one that Lily had made up. Ultimately, Lily does not move back in because she is worried she would ruin it for Rosie and Poppy.
Tracy Beaker Returns Series 3
Steve is attempting to regain custody of Poppy and Rosie. It is learned that the Perrys have enrolled the girls in a variety of different extracurricular activities and Rosie has taken especially well to dancing. The first contact meeting between Steve and the girls goes poorly which upsets Rosie and Poppy. Lily secretly arranges a picnic without the knowledge of social services between the girls and Steve. The picnic goes well until Poppy is sick and Steve is hit by a swing. Upon returning the DG, Rosie tells Christie that the girls had seen Steve. Afterwards, Lily tells Steve that he does not have to try and get Poppy and Rosie back; instead the girls just have regular meetings with their father.
Trivia